Patient education just got a whole lot smarter.
Any medical specialty. Any practice size. We've got you covered.
No credit card required. Ever.
Meet Patient Education Genius.
Patient education is already part of your daily workflow. By streamlining patient education delivery and automating patient engagement outreach, Patient Education Genius improves
your workflow and your patient's experience.
Automatically adds engagement best practices to your education
"I love knowing that my patients are actually reading the materials sent to them."
Rebecca Cucura, RN
North Carolina
A better patient experience in 6 seconds.
Eliminate time-consuming steps and deliver education to your patients in a matter of seconds.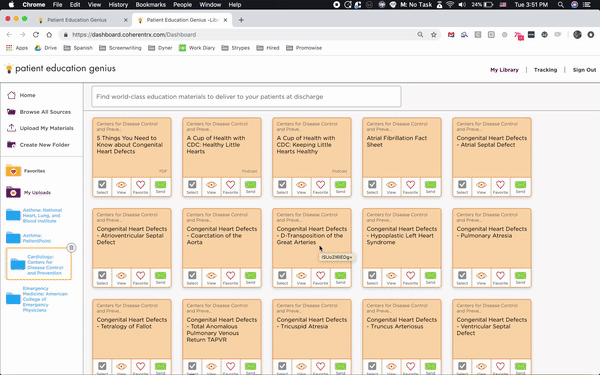 Receive instant patient feedback and reviews.
Our Patient Satisfaction Chatbot makes it easy for satisfied patients to promote your practice online.
Promote yourself and your clinical services.
Engage your patients with your photo and practice's brand, then educate them about other services you offer.
"Many are impressed that they receive the information while they are still in the examination room."
Randall Morgan, MD OB/GYN
Kansas
Take a quick tour of a sample educational message to see what it feels like from a patient's perspective.
Click here to open a sample message directly in your browser.
Enter your mobile phone and send a text to see the full SMS experience.
Medical Categories Covered
Educational Links in Library
See how Associates in Women's Health, an OB/GYN practice, streamlined their workflow and dramatically increased their Healthgrades reviews simultaneously.
After

6 months

using Patient Education Genius:
"I love that I can send the materials via text or email."
Susie Eitel RN, MSN, FNP-BC Clinical Operations Director
Healthe Clinic at Cerner